2DL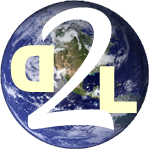 2DL – blending traditional world music with electronica, trip-hop, acid, trance and house.
Discography
2DL – for Now [Get it on iTunes Get it at Amazon Also coming to Spotify, MediaNet (MOG, iLike, Tesco, iMesh and Pasito Tunes), eMusic, Rhapsody, Napster and IMVU.]
2005: for NowThe first public release for 2DL, for Now mixes a broad range of electronica styles with an even broader range of world rhythms and influences.
Who are 2DL?
2DL is S. Siobhan McElwee and Sjan Evardsson.
Sequencing, hand drums, live percussion samples, composition,arrangement and loop mayhem: Sjan Evardsson
Live didjeridoo, live percussion samples, arrangement, composition and post-production wizardry: S. Siobhan McElwee